Choosing a Hearing Aid & Hearing Aid Fittings
At Advanced Hearing solutions, we have been providing excellent hearing healthcare and hearing aid fittings to customers throughout West Virginia. After a hearing test with one of our hearing specialists, we will find and fit you with a hearing aid that is both comfortable and effective. Our goal is to make your transition into life with hearing aids as easy as possible. It's not just about finding the right hearing aid – it's about you and your individual needs. We work diligently with you to find the perfect product to help you hear life again.
Finding the Perfect Hearing Aid
During your hearing aid fitting, we will explain what type of hearing aid(s) will work best for your lifestyle. Each person's hearing is different, and it is important to us to take the time to decide which type of device is right for you. A hearing aid should be comfortable physically in the ear along with the sound it produces.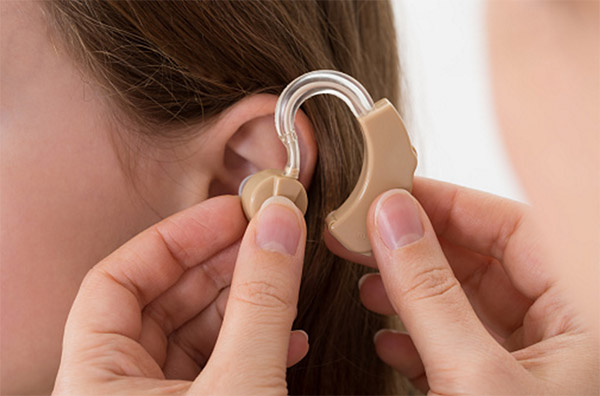 ---
Taking Care of Your Hearing Aid
We will also take the time to show you how to handle and care for your new hearing aid. To get the most out of your hearing device, it is important to understand what steps need to be taken to keep it in working condition. You will also learn about the parts of your hearing aid to better understand how it works. By understanding the functions of your hearing aid, it is easier to recognize and fix any problems that you may encounter. However, if you are unsure of something or are having trouble with your hearing aid, we will be more than happy to discuss these issues with you.
---
We Are Here To Answer Your Questions
At Advanced Hearing Solutions, we urge you to ask questions during your fitting. We will gladly provide you with the information you may need and we are always ready to answer any questions so that we can make your transition into hearing aids as easy as possible. Adjusting to your new hearing aids will take some time and may require additional changes, and we will be here for you to lovingly guide you through this process. We will schedule a follow up appointment with you to discuss how your hearing aids are working and to make changes if needed. We absolutely love to help people at and away from work, and our strong community involvement is a true reflection of how we feel about you. This is not just a job for us, it's a passion! Give us a call today and schedule your appointment with one of our hearing specialists and let our family help your family hear life again.